Hey everyone!
I thought I'd drop a quick note today instead of a normal book review.
October is my favorite month. What's not to love? Candy, Costumes and a feeling that the creatures that go bump in the night are out there... and we love it!
This is the month autumn is in full swing, the leaves change to colors of gold and pumpkin and Halloween is the biggest party of all!
This being my favorite month, I'll be hosting two giveaways! Both having to do with my favorite books, in my favorite month, at my favorite time of year.
And so......
I'm announcing a Succubus series by Richelle Mead giveaway that will have TWO lucky winners!
One lucky reader will win the first book in the Succubus series, Succubus Blues, and another lucky reader will win the last book in the series, Succubus Revealed.
This will take place October 10-16th when my Succubus series reviews go up. Nothing says October and Halloween than a succubus from hell. With a heart of gold.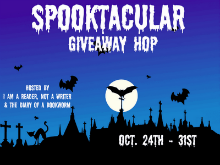 The second giveaway is the Spooktacular Giveaway Hop which will go up October 24th to October 31st, hosted by Diary of a Bookworm and I Am A Reader, Not A Writer.
This prize is a mystery for now- cue dramatic organ music!
So keep checking back! You don't want to miss the giveaways!
Happy October!